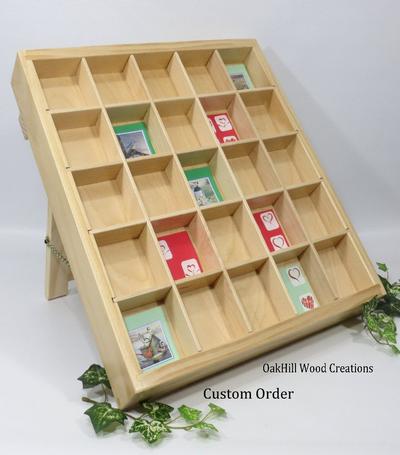 At OakHill Wood Creations we are recreating old world, Handmade Craftsmanship. Each item is Handcrafted with the same care and attention to detail that Craftsman of yesteryear had. These items have a story. The story of a man who wants to show that high caliber fine Craftsmanship is still cherished and that MADE IN USA still means made to last.
Our early products were mainly Home Décor items, Soap Dishes, Trivets, Tealight Candle Holders, Keepsake Boxes, and Decorative Dice. Then, due to a request from a customer, we added our Jesus Optical Illusion.
Our world really opened up when John made a simple stand to display our Fish Trivet Set and on impulse put it on Etsy for sale. That little stand has been very popular and showed us that there was a real need for Wood Countertop Display Stands.
We have now made Standard and Custom Stands for Craft Fairs, Trade Shows, Conventions, College Admission Fairs, State Park Facilities, Retail Displays, Medical Facilities and Doctor's Offices around the USA and Overseas.
Let us work with you to design a Custom Countertop Display Stand to meet your needs.
OakHill Wood Creations is Veteran owned and operated.
Our Shop is smoke and pet free.